Pentax KX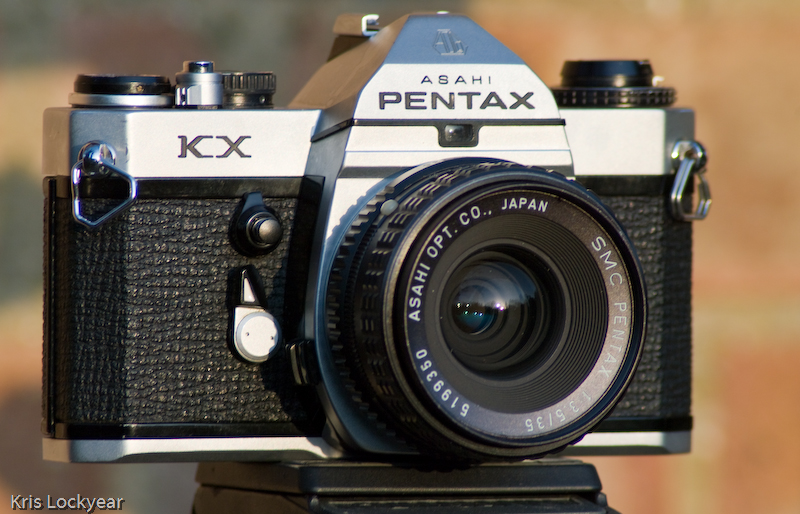 The Pentax KX was one if the series of new K-mount cameras introduced by Pentax in 1975. The KM was the basic model, the KX the middle model and the K2 the top model. The ultra basic K1000 was not introduced until 1976 and was the only model to survive the introduction of the M series cameras.
The KX is a manual camera with a self timer, depth of field preview button and mirror lock-up function. There is a "judas" window so that the aperture is visible in the viewfinder. The shutter speed and exposure is also shown in the viewfinder via a match needle system.
The camera is solidly built and feels very much like a K-mount version of the Spotmatic II. The viewfinder is the same size as the Spotmatic and takes the same accessories. Although the later MX is hugely popular, the KX matches it for features. It is, however, much larger and heavier.
Along with the K series cameras, Pentax obviously had to introduce a series of K-mount lenses. In 1975 they released 27 prime lenses and four zooms. Some of these were K-mount versions of Takumar lenses, some were new designs. Similarly, some were superceded by the lighter and smaller M series lenses from 1977 onwards, but some continued to be made through the M series period. These lenses, marked SMC (or smc) Pentax do not have an official series designation but users and collectors commonly refer to them as the 'K' series. The KX in the picture is fitted with a SMC Pentax 'K' 35mm f/3.5 lens.